General Questions
How do I place an order?
To place an order, you have to sign up for your free ProImageEditors account. Afterwards, your account will be checked and activated by our team. An email in this regard will be sent to you. Once you receive it, you can log into your account and place an order. Please note that this may take up to 24 hours. Check out this video to find out how quickly order can be placed:
How can I brief PIE about my editing style?
Your images will, of course, be edited according to your specifications. You have several possibilities to brief us:
Send us a link to your website, blog or portfolio. Our team will analyze your images and process your order based on your style.

Send us example images with small resolution. This can be images of a whole wedding or just some before and after pictures.

You can send us an email or describe your editing style in the job instructions in the order form, mentioning as many details as you like.

Send us an email or describe your editing style in the job instructions of the order form, mentioning as many details as you like.

Send us one of your (edited) Lightroom catalogues along with the Smart Previews. It can be a complete catalogue or just 20 to 50 images to exhibit your style and workflow.

Send in your customized Lightroom presets along with the catalogue.

If you are sure, you provided us with all the information needed, please place an order. For each job, you have the option of getting ten job samples, wherein you can send us feedback for us to understand your editing style.

If your style changes in the future, please do not forget to notify us of the changes.
Additionally, you have the option of uploading your own presets together with your images. Some of these points are discussed in the video below.
How do I upload my images?
After you log in to your account, go to "Orders" to get to the list of orders. Look for the image upload button on the side of your order. There are three different options to upload your RAW files or catalogues:
Web Uploader: For files only. Each file should not be more than 100 MB. Drag and drop your files to the uploader, and it will do the rest including notifying the production team that you have completed the upload.
FTP: For files, folders & Smart Previews. Make sure that you click "Confirm" once you have uploaded your files.
Link: Upload your images to Dropbox, WeTransfer, Google Drive, etc. and paste the link into the purchasing system.
Multiple Links: You can upload multiple links for a single order. This will help you upload images in multiple parts and from different sources.
Note: We can only start your order once we have received all your files. Make sure that the upload is completed before you submit a link to your order. For all three methods, we have created videos. Please have a look at them if you still have questions.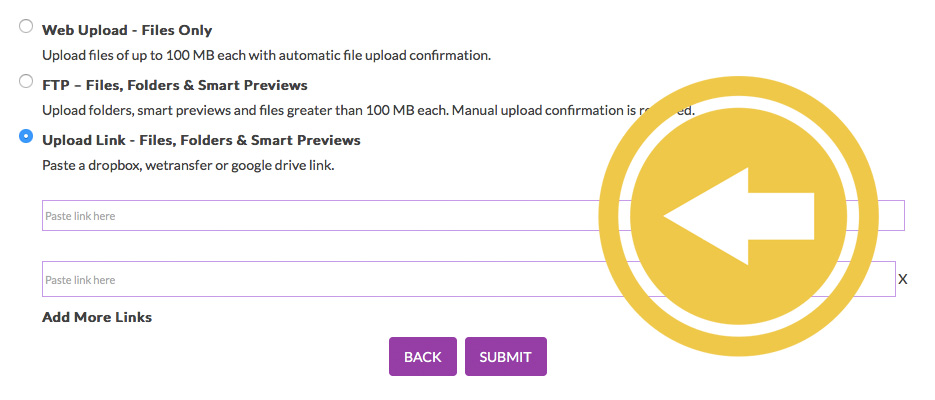 What is the turnaround time?
Color Correction:
5 business days
Express Delivery:
3 business days (maximum of 1000 images per order)
36 business hours (maximum of 400 images per order)
Basic Retouching:
50 images – around 48 business hours
100 images – around 4 business days
The turnaround time starts once we receive the order, the images and all information related to it. Production start time will be 12 PM (noon) CET for all orders successfully uploaded before 12 noon. Production start time for all orders received after 12 PM (noon) CET will be processed the next business day.
Business days do not include Saturdays & Sundays.
Custom Retouching:
The turnaround time is provided along with the quote.
Do you prefer RAWs compared to JPEGs?
A RAW file contains more information than a JPEG which means that the team has more information to work with and the output results are much better. Especially in case of retouching orders, we would prefer RAW files. However, in the case of weddings, events and other color correction orders all we need are Smart Previews.
Do you also offer video editing?
Yes, we also edit video material. We differentiated our video editing services in three styles:
Short video editing for RAW video input of 60 mins or less.
Documentary video editing
Cinematic video editing
For more information, please have a look in our order entry system. However, if you have a unique video editing style that is not covered by our general services, you can always request a custom quote. Requesting a quote is free of charge and with no strings attached!
Do the "Essential Edit" or "PIE Select" services include masking or retouching?
Both services are designed for advanced color correction and do not include masking or retouching.
What should be the input format and what will be the delivered output?
Color correction: As we work in Lightroom, the expected input is the LR catalogue and the Smart Previews. The output file format will be LR catalogue. If you do not use Lightroom, you have the option of sending us RAWs. The output in such cases is XMP or JPEGs (at an additional cost).
Retouching: The preferred input format is a RAW file because it simply contains more information. The images will be delivered as TIFF, JPEG or PSDs with or without layers (upon request).
Powered by HTML5 Responsive FAQ
Which procedure or workflow is recommended by PIE?
ProImageEditors can adapt to any workflow. However, often there are set workflows that photographers opt for, that are useful and eases their work. To help simplify this process, we have made a video which explains the process of transferring images to the computer, creating Smart Previews, selecting & pre-processing images.
Can I save my preferred settings for future orders?
Yes, you do not have to keep selecting your preferred settings every time you place an order! You have the option of saving these settings as a template to process all your future orders.
Note: It is crucial that you double check the settings saved in the template and make sure that they are still relevant to your current order.
How do I download my images?
When your order is complete, you should receive an "Order Complete" email from our production team. Please click the "Download" button next to your order in the "My Orders" section after logging in to your account.
For more information please refer to the following video:

Do you offer express deliveries?
We understand that photographers are very busy and have very specific deadlines. Therefore, we do offer express services at an additional cost.
What can I do if I don't find the service I am looking for?
If you have specific requirements that are not covered in our standard retouching services, please request a free custom retouch quote. You can approve or reject the offer, no strings attached. Custom retouching covers advanced Photoshop services like head swapping, background removal, skin smoothing, etc. You name it, and we will do it. Retouching is charged based on the amount of time it takes to process the image. This service is a simple but flexible way to cover your custom image editing needs.
Why should I outsource my image editing?
Outsourcing has become more common in the photography industry, in the past few years. Based on our experience and feedback from our clients, photographers who outsource their images have reported a considerable improvement in their professional as well as personal lives. 
By investing in outsourcing, you can: 
Save time and use it for more important aspects of your business such as speaking to new clients, planning more shoots or just spending some extra time with your family.
Save money by comparing your hourly rate against the costs of outsourcing. Editing can take up to 12 hours or more. Can you afford to edit your images yourself at a hypothetical hourly rate of 8 EUR? Just think about it.
Provide images with higher quality. We can supply you with a quality which you can only match after having expensive training and years of experience. 
Last but not least: By outsourcing your image and video editing you can achieve a delivery time that you can otherwise hardly dream of – even at peak times. This gives you a significant advantage over your competition. 
How do I know which are the selected images after I receive my "PIE Select" order back?
If we receive an order with no labels, then:
The B/W images are labeled with five stars
The selected images are labeled with a flag
If we receive an order with labels, then:
The B/W images are labeled in Blue
The selected images are put together in a separate collection named "Culled".
If we receive an order with markings (for B/W images), then:
The B/W images are put together in a separate collection named "BW".
What if I am not satisfied with the editing and I want to provide some feedback?
If you are not satisfied with the editing, you can submit a redo request. You can do this via email, and your job will be redone for you at no additional cost. Such a request helps us to understand your editing style. Additionally, we will document your requested changes to adjust to them for the next job to edit your images.
What you need to do:
Please make sure that your new order is placed within 15 days of the date of the original delivery.

You need to give us specific instructions on what you want to be redone.

Please provide examples wherever you can.
We will do our best to send the adjusted images back to you within 24 hours as well as save your feedback in your profile for future orders. It is essential that you have some time for the images to be redone for us to adjust to your style efficiently. Unfortunately, we are not able to offer a refund if there was no time provided by you to redo the images.
If you are unsure, you always have the option of sending us 10 sample jobs for free, before you sent us a whole job. Besides, basic style changes or the use of presets should be sent to us before the order is being processed.
Feedback: we encourage our customers to send us feedback for us to understand their editing needs. We save your feedback so that we can take it into account for the future order.
Check out the video below for more information on this topic:
Powered by HTML5 Responsive FAQ
Safety & Security
How does PIE protect my preferences and editing style?
Every customer has his editing style and work preferences, and we understand that these are valuable. Therefore, all your personal preferences and editing styles are stored in a centralized database and protected against the use with other customer orders.
Is PIE GDPR compliant?
In Europe, a new data protection regulation called GDPR (General Data Protection Regulation) is lining up and will come into effect starting the 25th of May 2018. The GDPR regulates how individuals and organizations like ProImageEditors (PIE) may obtain, use, store and delete personal data. ProImageEditors has worked hard to become a GDPR compliant editing service and highly values their customer's privacy and data security, as they are the basis of a trustful business relationship.
As you know, PIE is a US-based company with its production in India. As such, we are based outside the EU. Therefore, you need to sign this contract with us. That ensures data security of files transferred to processors established in third countries. Furthermore, we provide you with several documents so that you can create GDPR compliant business relations with us and your customers. For more information as well as the documents, please visit the "Consents, Privacy and GDPR" section in your PIE account. 
For more information on this topic, please have a look at our blog post about PIE as an GDPR compliant editing service and the measures we take!
Powered by HTML5 Responsive FAQ
How does PIE protect my personal data and my files?
The following points highlight the level of security for staff and data stored at the production facilities of PIE:
Editor workstations are isolated from the internet. That means that there are no threats of viruses, hackers or unauthorized data transfers.
All premises are only accessible via a fingerprint scanner and a key card system.
All our production floors are video monitored.
Any storage system, e.g. USB sticks, external hard drives, etc. are forbidden on the production floors.
However, even if a storage system gets onto the production floor, it would not be possible to use it, as all the production machines have blocked connections (USB ports etc.).
All data is subject to a backup system.
The image editing personnel is not aware of the name or address of their customers – they only work with anonymous client codes.
All data is managed on a central server in Germany, and access rights are regulated through our administration software.
After the delivery of your order, you are able to download your files up to 15 days.
Powered by HTML5 Responsive FAQ
Customer Service
Do you offer a free trial?
Yes, we do offer a variety of trials for several ProImageEditors services. To try us out, please visit the following site. Have a look around at what we have in store for you and choose one of our free trials according to your image editing needs.
On which days is the production team on holiday?
The customer support and production team are available on business days Monday – Friday. However, excluding the national holidays mentioned below:
Declared National Holidays:

01st January 2022 Saturday – New Year's Day
14th January 2022 Friday – Makar Sakranti & Pongal
26th January 2022 Wednesday – Republic Day
18th March 2022 Friday – Holi
15th April 2022 Friday – Good Friday
03rd May 2022 Tuesday – Eid
15th August 2022 Monday – Independence Day
31st  August 2022 Wednesday – Ganesh Chaturthi
05th October 2022 Wednesday – Dussehra
24th October 2022 Monday – Diwali
26th October 2022 Wednesday – Bhai Dooj
Therefore, the team will address all queries to customer support and deliveries of orders on the following business day.
Powered by HTML5 Responsive FAQ
How can I communicate with PIE after placing an order?
Instead of sending an email, you can easily send us feedback on for your respective order through the order entry system. Once you have placed an order, you can communicate with the production and customer service team through the comment box while the order is in progress. You also can add links to reference images! This will simplify communication with the team and you will be able to see all relevant information for that particular order, in one place.

Powered by HTML5 Responsive FAQ
Payment
What forms of payment do you accept?
Currently, we accept payments through PayPal and credit card. Please refer to the following video for more information on payment procedure and invoice:
What are PIE Credits?
PIE credits are a simple and flexible way of making hassle-free payments for your orders. Instead of paying for each transaction using your credit card, you can buy credits and use them as a form of payment for all your orders. You will also receive an invoice for the purchases you make with PIE credits.
How does it work?
Pre-buy credits by clicking the "Add Funds" button in your profile

Credits will be directly added to your account once the payment process is completed and can be used instantly.
How do I redeem them?
To redeem your credits select "Use Credits" at checkout.
Terms and Conditions:
Credits once purchased are non-refundable.
Credits have no expiration date and can be used until its value has been fully redeemed.
Powered by HTML5 Responsive FAQ
Will I receive an invoice from PIE?
An invoice will be generated after the completed payment process. It will be available in your PIE account as well as sent via email. Please refer to the following video for payment procedure and invoice:
How do I make an additional payment?
To make an additional payment, please follow the below steps:
Log into your PIE account.

On the "Service" page, please click on "Make a Payment".

Enter the amount due (without the € sign) in the "Custom Price" column.
Powered by HTML5 Responsive FAQ
Lightroom
Which Lightroom version is recommended?
We always recommend the latest version of Lightroom. Especially the versions 5/6 and CC have some helpful updates. Smart Previews are supported from version 5 onwards.
How do Lightroom Smart Previews work?
Starting from version 5 of Lightroom there is the possibility to create Smart Previews. This allows a full selection of RAW, non-destructive editing to be made without actually having the original images. The changes will afterwards be automatically applied to the original data.
For you, this means:
You only need to send the exported Lightroom catalogue with the Smart Previews.

The data is way smaller than the original images.

The upload is faster and a massive saving in bandwidth.
Please refer to the video below to find more details about the process. Additionally, you might be interested to see a video about the complete workflow at PIE. You can find both in this blog article:
How do I create a new catalog with Smart Previews in Lightroom 5/6?
Follow these simple steps to get started: 
Create a new catalog and name it "[ORDER NAME] LR5".
Import only the images you want to send to PIE.
Select all of the images and click: Library > Previews > Build Smart Previews.
Send both the catalog (ending in ".lrcat") and the Smart Preview (ending in "Smart
Previews.lrdata") files.
For more detailed information please refer to the video below:
Powered by HTML5 Responsive FAQ
Can PIE work with my Lightroom presets?
Of course, you can send us your Lightroom presets. Additionally, PIE owns the latest VSCO presets as well as many others. If you let us know you're preferred presets it is not necessary to send it to us if we have it available.
Please refer to the video below for a detailed explanation:
How can I send Lightroom Smart Previews?
Follow the steps below to learn how you can send us Lightroom Smart Previews:
Create a new catalogue and name it in the same way as your order.

Import the images that you want to send to PIE.

Select all images and click on "Library – Create Smart Previews".

Send us the catalogue (".lrcat") and the Smart Preview files ("Smart Previews.lrdata")
For more information about this procedure please refer to the videos below:
How do I process the final catalog that I have received from PIE?
If you don't know how to process the final catalog, please follow these simple steps:
Download the file containing the edited catalog.
If necessary: while in library (Grid) mode, click the icon in the upper-right-hand corner of a thumbnail image and locate that original RAW/ original files on your computer. Do that process for one of the images and Lightroom will automatically find the rest of the images.
Please wait until Lightroom successfully rendered all the images.
Done! The editing which we have put onto the Smart Previews was now transferred to all original files. Please refer to the video below for the detailed process:
Powered by HTML5 Responsive FAQ
Capture One
Which version of Capture One is recommended?
We always recommend having the latest version of Capture One. The version Capture One 12 is currently used.
How do I create sessions or catalogs in Capture One?
When getting started in Capture One, one of the first things you'll do is choose whether to create a new catalog or a new session as you prepare to import photos or begin a tethered shoot. A session can be used as a project container to store folder locations. Use the sessions function to organize all your work.
To create a new session:
Select File > New Session. (Alternatively, go to the Library Tool Tab and press the + icon located next to the Switch Session/Catalog menu). 
Name the Session.
Rename folders if desired.
Decide on the placement of the session folders. Please note: a tethered session will contain a Capture Folder.
Press OK. 
A catalog is the primary method of file organization and viewing in Capture One Pro. The location of the actual image files can be on any disc location but can also be placed inside the catalog file. Image files are located and accessed in the Library tool. Image files need to be imported into a catalog.
To create a new catalog:
To create a catalog go to > File menu > New Catalog.
Name the catalog.
Press OK